Dear Isobel,
Just a word from your mum....Can you please stop growing up so fast??
In a month, it will be half a year ago that I gave birth to the cutest thing in the world. Scary, very scary.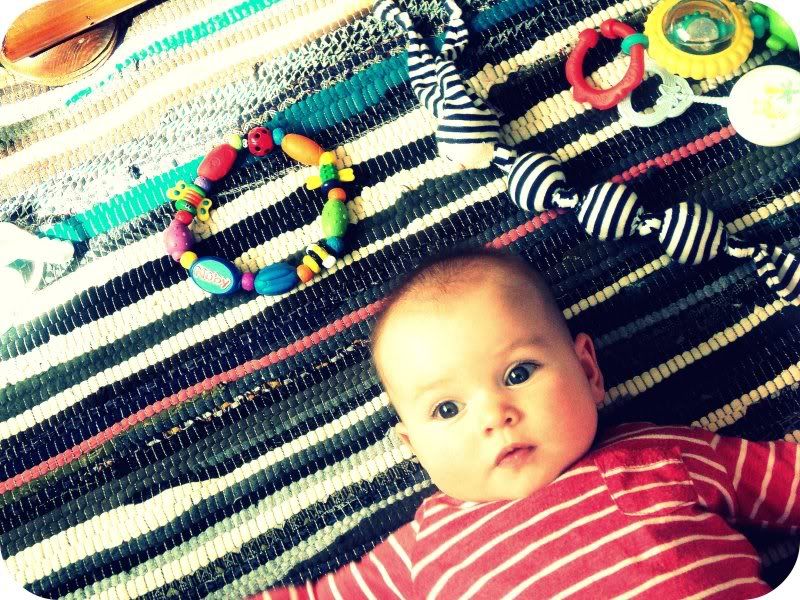 This month we have seen Isobel become completely aware of her surroundings, if she was alert before, well now she doesn't miss a beat. She will turn her head at the sound of your voice & stare at you as though she understands every word you a saying. Last night, Gareth & I were having a semi serious conversation about work (we try not too in front of her but meh) & she lay in between us staring at Gareth with this adorable little grin on her face trying to get his attention. It worked, because as soon as he noticed he completely ignored what he was talking about previous.
She reaches out & grabs for anything (my hot cup of tea/cellphone etc etc). I love when she tries to grab tiny wisps of my hair but they're too small for her to hold onto.
She's got cuddly again, we often have little snuggles for a few minutes or so, I love rubbing my face along the top of her head, it's so warm & her hair is so fluffy & soft. (I'm her mother, I'm allowed!)
She's just starting rolling from her back to her tummy & she oftens moves herself around in circles like a break dancer does.
She LOVES animals, especially the cats. She watches them as soon as they wander pass & will often throw herself forward off my lap in an attempt to grab at them. So dam cute.
Staying at home all day just ain't her thing, she loves to be out & about looking at things. I took her to the Art gallery the other day in her front pack & she loved it.
She has had her first taste at human foods, opened her mouth up straight away & munched it down like she had done it before. Boob still comes first though.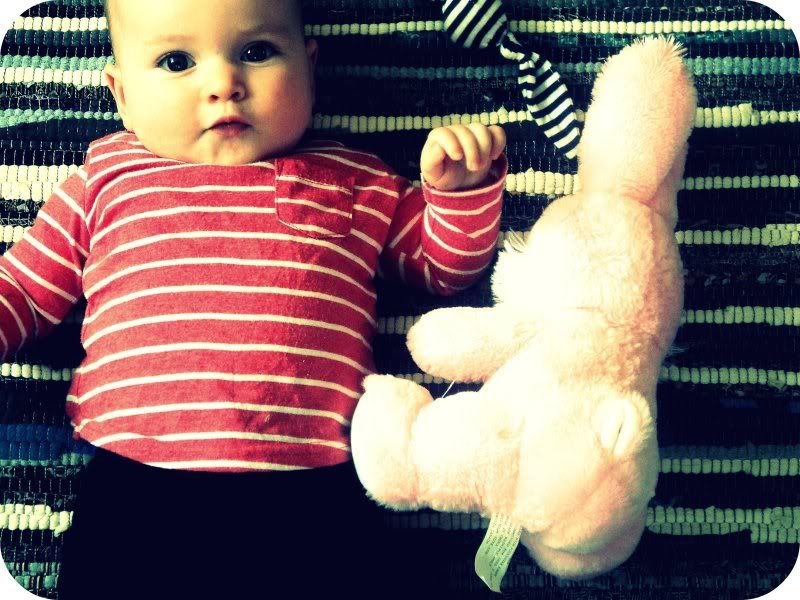 I'm in a bit of a pickle, part of me can't wait for her to grow up & start crawling/walking etc but the other half misses the little baby that she keeps moving further & further away from.
I never realised that babies grew out of the little newborn stage so quickly & if I had known, I would have stopped stressing about the small things much earlier than I did & just enjoyed snuggling into her.
We love you little chucky,
Love,
Your Mum